About US
Our story began in 2012, when our family Doberman, Atum, had been diagnosed with cancer for the second time. When you get news like that, you are willing to try and do anything. This led us down the rabbit hole of dog nutrition -- if you've been down this road before, you know how confusing and overwhelming it is.
Feeding real food changed our lives and extended our Atum's life 3 years longer than expected. Despite having access to so much information, we realized quickly that the path to health and longevity isn't clear for dog owners - partially because every dog is unique. And also because basic nutritional information has been gated and locked away, and the idea of convenient, processed foods has all but been stuffed down our and our dogs' throats.
There's nothing like extreme trauma, like knowing your dog only has six months to live, to force you to find a life-saving solution quickly. Seeing real food save his life and understanding the challenges around fresh food inspired us to figure out convenient, affordable, and healthier options for other dog owners.
Our goal is simple - to prevent food-related canine illnesses by helping you #feedreal food.
Dogs are suffering from food-related disorders at historically high rates. Even the most expensive kibble has starches that turn into sugars, non-bioavailable synthetic vitamins, and preservatives that have been linked to a host of health issues. Once we learned the truth about processed food, we had so many more questions. It took far too much effort to get in touch with our dog food maker to ask about these ingredients. And instead of answering our questions, they told us to talk to our veterinarian for nutritional advice. We felt belittled. We couldn't understand how a company could make a "complete" food formulation that guarantees a lifetime of health that only a veterinarian can translate for us.
Our solution is to create educated dog owners and veterinarians that invest in longevity. Our research turned us to highly driven fresh food advocates. We wrote over 200 articles on canine nutrition and built an accredited canine nutrition certification program to arm dog owners with the knowledge that was robbed from them by deceptive marketing practices.
We are much more than a treat box company. We don't use fancy marketing terms. We tell you exactly what you're feeding, how it's made, and why it's good for your dog. There is no secret recipe. We have led the fresh food movement by making fresh food accessible, convenient, and affordable. We are a gateway to the basics of dog nutrition every dog owner should know.
We want to make Real the new industry standard. We want dog food companies to be more like us - keeping it real with you. We want you to be able to ask questions and not to be treated like you need a license to understand what is good for your dog. We learn, we share, and we empower you to take control of your dog's health.
Real Dog was created from a simple idea: Use the internet to help people feed real food. And we are so grateful and honored that it has evolved into a movement and community of amazing dog owners like you.
We hope to make a real change in your and your dog's life! We promise we will take care of your dog like our own.
Thank you for letting us be part of your fresh food journey.
Founders, Ruby and Turk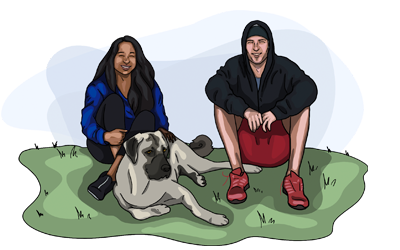 ABOUT THE FOUNDERS
Turk Boortechin, Turkish, Eurasian immigrant, software architect, a former hacker, and (GS-12 Level) international broadcast journalist. I was born in Ankara and moved to Louisiana when I was 17. For the first 9 years of my life, I was partially deaf in both ears, but neither my family nor teachers knew that, and my peers didn't make things easy for me. I relied heavily on visuals and kinesthetics. I learned how to read lips and play competitive sports through observation. Consequently, I bonded with dogs who were true companions for a misfit. I didn't have role models so I had to be an integrative thinker to survive. Later on in life, I became obsessed with the future and technology, and started multiple online businesses but never got as far as I have with Real Dog. I've learned that it isn't just grit and perseverance that build a lasting company, it's also the partners you choose to have alongside you. At this stage of my life, nothing is hard, and nothing is impossible… It just takes time.
Ruby Balaram, First-Gen Asian American, former International Trade/White Collar paralegal. As a child of immigrants, I was encouraged and fortunate to be able to try any hobby I wanted. I excelled in math, languages and music. I'm naturally task-driven and thrive in mission-first environments, likely due to being raised in a military family. In my early 20s, I helped launch a startup law firm, left to teach English and travel the world, and returned years later to the golden handcuffs of big law. I chose to jump off of the corporate ladder because I wanted to create a space where people had a voice, where the culture was honest and women felt empowered and supported. One of my proudest accomplishments is that over 60% of our team is made up of women, and they also make up over 75% of our leadership positions.
OUR VALUES
What keeping it real means to us:
(1) We maintain perspective on what really matters;
(2) We call out the truth when it isn't obvious;
(3) We stay true to our roots and continue to evolve;
(4) We are transparent and don't pretend to keep up with trends;
(5) We remain calm when faced with adversity and honor our commitments;
(6) We speak our minds and support decisions with reason.
This is a declaration of our intentions, motives, and views. Part 3 is coming soon.
Part I: How we got here. (Why we are here)
Kibble the Superfood. Breaking into the Sector. The first of a three-part series of our journey into the technology and dog nutrition industry.
Part II: What we are doing. (What we do)
Kibble isn't Real Food. Real Dog Box is a membership to real dog food.
Part III: Where we're going. (The future of online dog wellness)
TBD until we expand our operations.